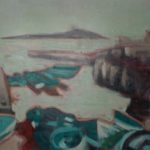 Oonagh Latchford
Latchford holds a BA (hons) in Art. She was recipient of Artlinks bursary 2018 and of County Wexford Arts Department's Tyrone Guthrie award 2014. She has been awarded primary school residencies under the auspices of the Living Arts Project in 2014, 2106, 2017 and again in 2018. She is on the current panel of artists within County Wexford Arts Department Arts Ability programme.
Exhibitions include Scéilini in Paint, a solo show in the Anita Chan Lai-Ling Gallery, Fringe Club, Hong Kong as part of her residency for the Irish festival Asia 2018, with the support of Culture Ireland. Also Painting is dead- WHO SAYS?, group show Kamera 8, Wexford. Her paintings are held in collections within Ireland, Hong Kong and the USA.
Latchford's recent work, in addition to being explorations of painterly concerns with colour, light, paint and composition, is a commentary on the hidden social isolation often experienced within contemporary society. Working primarily in Oils, her compositions are disrupted by elements of abstraction. Often using seemingly unlikely colour palettes, much of her work shows evidence of the sanding back of paint, exposing previous marks and ideas. The 'Lifelines' series which she commenced in 2019, sees her introduce the the idea of place with identity and memory – and has taken her on an inward journey into the past and back, reflecting on lives, paths and outcomes. Family photographs, both old and new are adopted as source material, resulting in work that has elements of of nostalgia, history and longing.
A pink line has become a recurring motif, swaddling subjects – a symbolic lifeline guarding against isolation linking people and places together. Compositionally, it jars against natural scenes, disrupting reading of the work as simple studies of human form or as straightforward landscapes.
For more information including a current exhibition listing please see