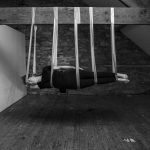 Michelle Browne is an artist and curator based in Dublin, Ireland. Her work focuses on socially engaged practice and performance with a particular interest in the built environment and the city.
She has performed and exhibited both nationally and internationally most recently taking part in 21st Century Ireland in 21 Artworks, Glebe Gallery, Ireland (2019); Engaging Places, Tate Liverpool, UK (2018); Invisible Cities, St. Helen's, UK (2016); Border Crossings, SASA Gallery, Adelaide, Australia (2016).
Browne is currently developing a cooperative board game called World of Work – commissioned by Heart of glass in St. Helens, UK. Other recent work includes: Bring Your Own Chair, a performance in public space across three counties in South East Ireland.
She has also curated a number of exhibitions including: The Citizen Cycling, a series of collaborative commissions and audio guide for the city, looking at mobility and the future of Dublin city (2019) and These Immovable Walls: Performing Power at Dublin Castle (2014).
From 2017 – 2019 Michelle was part of Creative Producers International, a three year global talent development programme that aimed to encourage a new kind of conversation with creative communities, citizens and city authorities to effect change in their cities.
She is a lecturer in the Department of Sculpture and Expanded Practice at the National College of Art and Design in Dublin.
————————————————————-