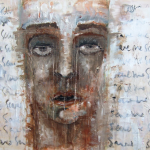 b. 1991
Originally from Kilmuckridge Co. Wexford and now lives & works in Enniscorthy. She is currently the Visual Art Manager at the Presentation Arts Centre Ennisorthy where she carries out her role as Visual Art Programme coordinator and exhibition curator with the Wexford Arts Centre.
Lisa has been curating exhibitions for many years and among others, has organised exhibitions to coincide with the Wexford Opera festival & the Street Rhythms Festival, Enniscorthy.
Lisa is also a practicing artist. She uses portraiture in her work along with mixed media, mainly old books and pieces of personal history she also uses ink and rhythmic writing in creating her work which shows notes of pattern, order and routine.
Lisa was a volunteer at the National Gallery of Ireland and has gained valuable experience as part of the education team there.
Studied at Gorey School of Art 2008- 2009
Waterford Institute of Technology, Bachelor of Arts Honours Degree 2009 – 2013
Visual Arts Manager at the Presentation Centre Enniscorthy 2015 – present
Exhibitions
First View – Visual Narrative at Garter Lane Waterford 2013
Pop up exhibition – Street Rhythms Festival Enniscorthy 2014
Art on the Rails – Group Show at St. Olafs Hall Waterford – Sproi Festival 2014
Through the Rafters – Group Exhibition at The Cow House Wexford 2015
Face to Face, The Summer Portrait Event at The presentation Centre Ennisorthy 2015
The Presentation Centre- Temporary Exhibition- Solo Show Enniscorthy 2016
The First Annual Open Call – Group Show at The Presentation Centre Enniscorthy 2016
The Second Annual Open Call – Group Show at The Presentation Centre Enniscorthy 2017