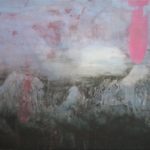 Hanneke van Ryswyk
Hanneke is a Welsh Dutch artist living in Blackwater, Wexford.
Van Ryswyk has held six Irish solo exhibitions since moving to Ireland in 2011 and has been selected to exhibit at the Royal Hibernian Academy [RHA] Annual Exhibition for five consecutive years. Hanneke has been selected for exhibitions in London, Oxford, Melbourne, VISUAL – Carlow, The Model – Sligo, The Lavit Gallery – Cork and Terra Nostra, curated by Karla Sanchez, Wexford County Council.
She has been awarded residencies at Cill Rialaig, The Tyrone Guthrie Centre, Kultivera, Tranås, Sweden and has been awarded Visual Arts Bursaries by ArtLinks in 2014 and 2019. Paintings by Hanneke van Ryswyk can be found in the Office of Public Works Collection, Wexford County Council Collection and in private collections in Ireland, United States, United Kingdom, Australia and the Netherlands.
Hanneke's on-going body of work in painting explores the natural world, its vulnerability, its beauty and the effects of extreme weather on land and sea. She paints imagined lands and seas, with an abstracted aesthetic and sensitivity. The artist works in a series of layers responding to each as they evolve, her process is intuitive and considered. Van Ryswyk depicts the displacement of land, rising waters, storms, coastal erosion, disappearing islands and melting glaciers due to human activity. Living on the Irish coast allows her to witness first hand the effects and vulnerabilities climate change is having on our coastline.
Her solo exhibition 'Residues of Time' was reviewed by the Sunday Times arts critic John P. O'Sullivan.
"These small, mysterious, and alluring paintings are abstract explorations of the effect of weather and climate change on the surface of the earth. The chilly images are more icescapes than landscapes. The frozen world she invokes has a post-apocalyptic feel to it. Icy shapes writhe like monsters enveloping the blasted land. The amorphous shifting terrain shows no signs of human involvement."
John P. O'Sullivan, © The Sunday Times, Culture Magazine – Irish Edition. May 11th 2014.
http://www.facebook.com/hannekevanryswyk
http://www.hannekevanryswyk.com
Exhibitions
Workshops
The figure in drawing and print with David Begley & Hanneke van Ryswyk Schoolhouse for Art, Enniskerry, Co Wicklow
Art In Schools
Assistant artist, Living Arts Project, Danescastle NS, Carrig on Bannow, Co Wexford 2019
Awards
Awarded Visual Arts Bursary – Artlinks Professional Development Award 2019