Grahame Booth PPUWS
Grahame Booth is based in Belfast and he is a popular tutor in workshops throughout Europe as well as being in demand as a watercolour demonstrator for art societies. Painting only in watercolour, Grahame is a Past President of the Ulster Watercolour Society and his paintings are in private and public collections worldwide.
View "Rainy Day, Ballyhack" within the Collection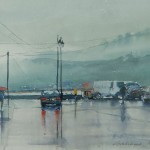 Grahame believes that the essence of watercolour is in its freshness and transparency and so a successful watercolour must be painted boldly and confidently. There is little room for error and so he plans each painting carefully before putting brush to paper, often starting with a preparatory pencil or line and wash sketch. As you can imagine, his no compromise approach to watercolour means that relatively few of his paintings actually make it into a frame. "Watercolour paintings by their nature will never be "perfect" but if they capture the atmosphere of the subject then I will be reasonably happy. If I lose the light or if I make a mistake then its straight into the bin and start again. It is hard to paint atmosphere unless you can feel it, smell it, and taste it.I realise that it may sound corny but when I am painting, say, a coastal scene, I am trying to capture the sound of the waves and gulls and the salty sea smell just as much as the actual visual elements".- Grahame Booth His success in watercolour is reflected in the many awards he has won and his watercolour articles are regularly featured in art periodicals. He was the only Irish artist to reach the national finals of the popular Channel 4 programme Watercolour Challenge.
Contact Information
Website:  www.grahamebooth.com
Facebook: https://www.facebook.com/GrahameBoothWatercolour
Other Links:
YouTube: http://www.youtube.com/gbwatercolour